Your NEW faith-based inquiry science program is ready to order
ByDesign is your new faith-based inquiry science program for grades 1–8. This engaging, rigorous, and developmentally appropriate curriculum nurtures children's natural curiosity as they explore the wonderment of God's Creation through the lens of the Bible.
ByDesign offers a balanced and integrated development of science and health within the framework of the Adventist worldview.
We're very pleased to announce the availability of ByDesign for grades 1–4, which can now be ordered through our partner, Kendall Hunt Religious Publishing. To access an order form, click here.
When ordering materials for multi-grade classrooms, please order the following:
Grade level TEs for the grades that you teach
Grade level SEs for the grades that you teach
Multi-grade Teacher Guide for Current Cycle
Multi-grade Student Science Journals (Grades 1-4 or 5-8) for Current Cycle
For more information, visit https://rpd.kendallhunt.com/program/bydesign-science or call 1.800.542.6657
For additional program assistance and to determine how best to address your classroom needs, contact Lynn Molony lmolony@kendallhunt.com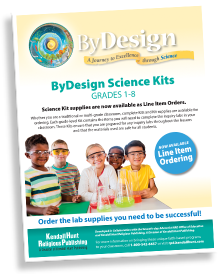 Extended Offer

DOWNLOAD
ORDER FORM

By Design Science has changed the way I teach Science. My students love that they get to "DO" Science instead of only reading about it, but don't worry...the text has lots of information as well! The inquiry approach is made easy with the student Science Journals and Materials Bins which provide you with everything you need for inquiry right at your fingertips. I love that my students are reading the Bible as they learn Science. This series has brought God into my Science class like never before! My students especially enjoy the online textbook. When learning in class I like to project it onto my classroom screen. One student exclaimed, "I can focus so much better when you teach this way!